Warehouse Operations
·
Paris
Coordinateur partenaire de livraison H/F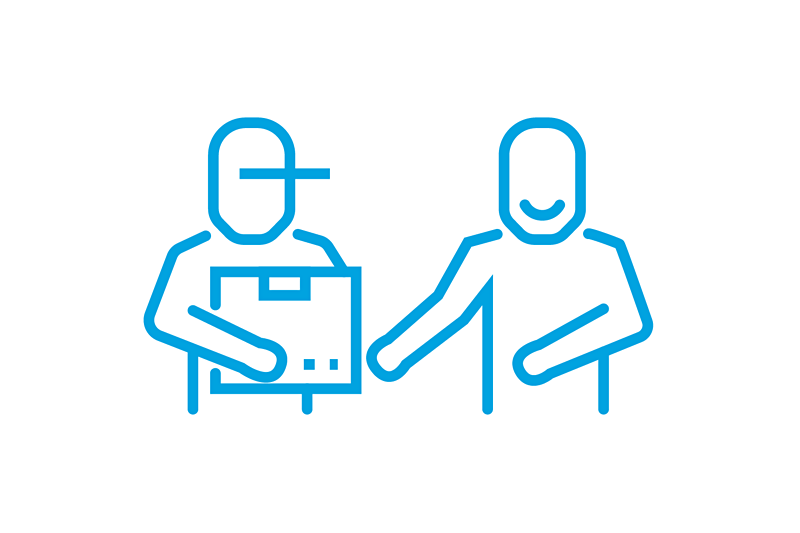 À propos de Paack 📦
Nous sommes Paack, une entreprise de scale-up tech-logistique fondée en 2015, principalement axée sur la livraison du dernier kilomètre. Depuis lors, nous avons connu une forte croissance au sein du marché européen avec une présence déjà dans 5 pays européens tels que l'Espagne, le Royaume-Uni, le Portugal, la France et l'Italie.
Notre mission est de construire la plateforme tech-livraison la plus avancée pour assurer la meilleure expérience de livraison durable de sa catégorie.

NOUS Prenons Soins, NOUS Prospérons et NOUS Innovons sont nos valeurs fondamentales et c'est précisément la raison pour laquelle, ici à Paack, nous recherchons des personnes exceptionnelles et courageuses qui aiment relever des défis et briser le statu quo.
 Nous Paackers, nous sommes fiers de favoriser un lieu de travail égalitaire promouvant la diversité et l'inclusion, qui est un élément fondamental de notre culture. 🌱
A propos du poste 💻
Depuis nos entrepôts, nous sommes chargés de superviser efficacement les opérations de stockage et de livraison. Nous comptons sur des équipes d'opérateurs d'entrepôt et de conducteurs associés pour garantir que toutes les commandes sont traitées de manière efficace, opportune et rentable.
Nous nous occupons de la planification des itinéraires pour les chauffeurs à l'aide du système interne de Paack, des KPI et de l'analyse générale des données, et nous gérons les opérations quotidiennes de l'entrepôt en veillant à ce que notre client final ait la meilleure expérience possible.
Nous sommes à la recherche d'un Coordinateur partenaire de livraison pour rejoindre l'équipe immédiatement.

Vous aurez en charge :
- la publication des appels d'offres, le recrutement des nouvelles flottes ( partenaires ), la communication avec les flottes de chaque ville
- la lecture et la diffusion des KPI's quotidiens. 
Aussi vous serez accompagné(e) par le partnerfleet Manager FR pour les phases de négociations avec les flottes ainsi que les problèmes à gérer au quotidien. 
Nous recherchons une personne qui possède les qualités suivantes : 
- Capacité d'adaptation 
- Poussé vers la qualité 
- Curieux(se) 
De formation Bac +2 avec une première expérience en transport de préférence et avec une bonne connaissance dans la législation transport. Possibilité de travail en heures décalées.

Pourquoi Paack 💡
Parce que pour mener la révolution de la livraison du marché en ligne, nous avons besoin de personnes enthousiastes, énergiques et engagées. Mais c'est une rue à double sens, donc si vous vous engagez, nous nous engageons aussi à.. :
Un grand projet dans une scale-up en pleine croissance, qui révolutionne la livraison du dernier kilomètre dans les grandes villes européennes.
Un endroit où vous pouvez continuellement développer votre carrière.
Un environnement convivial et facile à vivre.
Programme de référencement
25 jours de vacances par an 
Prestation de programmes de santé et de bien-être au travail à 360º pour tous les Paackers par notre partenaire WellWo.
Prochaines étapes 📝
Vous pensez que nous pourrions être compatibles ? Si oui, alors dépêchez-vous de nous rejoindre !
Veuillez soumettre votre CV et tout matériel supplémentaire en cliquant sur le bouton ci-dessous.
Une fois que nous aurons examiné votre candidature, nous vous contacterons pour organiser les prochaines étapes.
Department

Role

Delivery Partner Manager

Locations

Paris
WE are Paackers 😎
We are an international and multicultural team. 🌍
We are always keen to take on every challenge we face with an unbreakable spirit, which enables us to compete in such an ambitious environment as the logistics industry is.🐱‍🏍
We are constantly thriving. We are dynamic and always keen to overcome challenges and above all, we are passionate about what we do: progressing and innovating every day. 💡
Every single Paacker is an essential part of the team. Someone who inspires others and actively contributes to Paack to become the benchmark sustainable logistics company in Europe.🤝🏼
Warehouse Operations
·
Paris
Coordinateur partenaire de livraison H/F
Loading application form
Already working at Paack - WE Hire!?
Let's recruit together and find your next colleague.